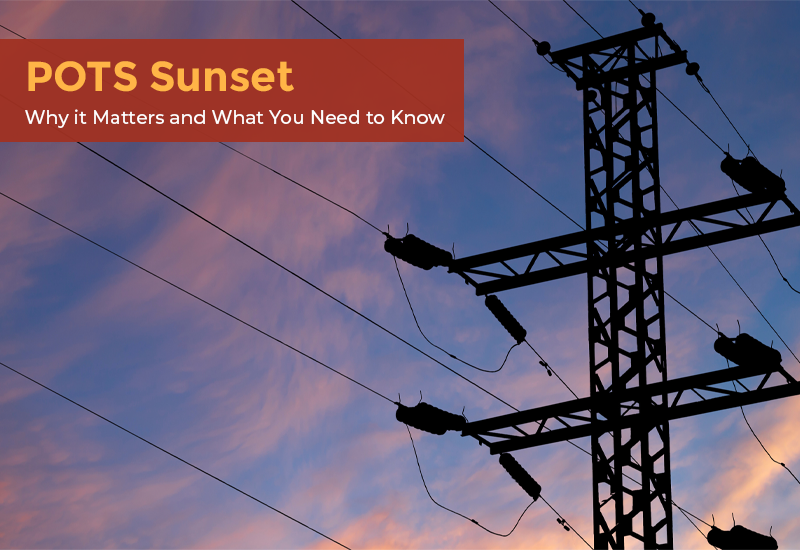 In 2019, the FCC issued order 19-72A1, providing the green light to the retirement of analog technology, the divestment of analog service, and future investment in next-generation technologies. Here's what this means to security, fire, and life safety systems and why it is important to take action now. 
What Are Pots Lines? 
Plain Old Telephone Service or POTS lines are conventional analog signal transmissions rendered over physical copper wires (twisted pair). This familiar technology relies on a dial-up infrastructure. Originating in 1876, it is the basic telephone call service that individuals and businesses have used for generations.
POTS line technology has changed very little for about 150 years. To put this into our modern perspective, the Windows OS has been in use since 1985 and has encountered 27 iterations, 39 versions, and 59 editions (and counting) in just 37 years.
The Role of POTS in Security
POTS plays an important role in the security ecosystem. Security, fire, and life safety systems use these systems to transmit and communicate emergency communication signals to the Central Station. Most elevators, emergency call boxes, and alarm systems all rely upon POTS lines for their functionality. 
When it comes to security alarm systems, the system's ability to transmit emergency signals is of paramount importance. 
What Does  FCC Order 19-72A1 Mean for Your Security?
The FCC Forbearance Order 19-72A1 requires that all POTS Lines in the U.S. be replaced with an alternative service beginning August 2, 2022. The order effectively ushers in an end-of-life scenario for traditional analog copper POTS line systems.
POTS line providers will not be required to update or maintain POTS lines

Providers are no longer required to make the services available to consumers

POTS line prices will be deregulated, and providers can charge significantly more for the service
This also means that this aging and disintegrating infrastructure providing life-saving emergency communications for mission-critical systems must be replaced to avoid disruption. 
What Should You Do to Ensure the Continuation of Security System Communications? 
To mitigate the potential disruptions caused by the sunset of POTS lines, it is crucial for organizations to plan and execute a smooth transition to modern communication technologies. Here are a few essential steps:
System Audit and Evaluation

: Conduct a comprehensive audit of existing security systems to identify components reliant on POTS lines. Evaluate the specific communication requirements of each component to determine the most suitable modern alternative.

Consultation with Service Provider

: Engage with reputable service providers to explore available communication options, such as cellular connectivity, VoIP, or managed network solutions. Consider factors like coverage, reliability, security features, and scalability.

Infrastructure Upgrades

: Evaluate the readiness of existing infrastructure to support modern communication technologies. This may involve upgrading network equipment, implementing appropriate security measures, and ensuring compatibility with new systems.
Moon Security Can Help You Prepare 
Understanding that many security customers may be unaware of the FCC ruling, we have proactively made a way for customers to switch from POTS to an updated and highly reliable alternative simply and easily. We have made arrangements with our radio manufacturers, enabling us to offer special pricing during this time. 
About Moon Security
Serving eastern Washington State, North Idaho, and Northeastern Oregon, Moon Security is ranked as a leading security provider in the US. The company has over 60 years of experience in the U.S., offering security, fire and life safety, video surveillance, access control, cyber security, identity theft, patrol services, and court services. For more information about their services, please call 800-722-1070.