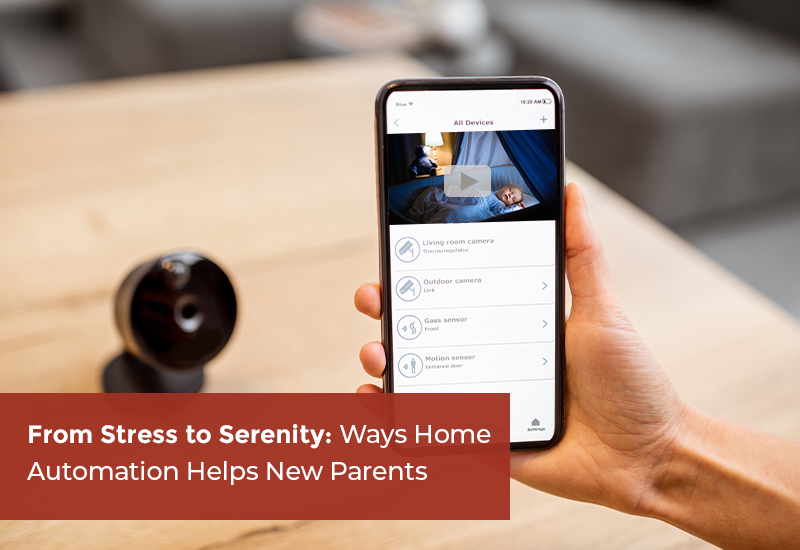 A new parent spends most of their waking hours caring for their baby. Having to deal with stress and sleepless nights, new parents need all the help they can get. This is where a home automation system can really help. Smart home automation can help new parents focus on what matters: their growing family.
The home automation revolution has revolutionized the way we live. In the past, it was impossible to control your lights, heating, and security alarms from your phone. These days, it's just a given. And home automation has many more benefits than just convenience.
Step-By-Step: Smart Home Options
There are many options and features to consider when installing a home automation system. Here are some features new parents will love the most:
Smart Lighting 
One of the best home automation options for new parents is smart lighting. Being able to control the lights without disturbing the baby benefits new parents. A smart lighting system allows parents to control and schedule their lights remotely. One of the most significant advantages is being able to fall asleep with your baby without worrying about whether you left the lights on.
Video Doorbells
For new parents, smart video doorbells are a must-have. Parents can see what's going on outside their door using a video doorbell and communicate with visitors. It's beyond helpful to be able to answer the door remotely, whether you're a mom nursing or a dad putting a kid down for a nap.
Smart Locks
New parents will love having smart locks installed in their home for the calm and security they offer. Smart locks let parents unlock and lock their doors remotely, open the garage, and let people in.
Smart Thermostats
Another life-changing home automation technology for parents is a smart thermostat. New parents will love the ability to adjust and program the temperature on their phones. When they're at home, away, or under a sleeping baby, they can change the temperature in the house.
Surveillance Cameras
New parents will feel more secure in their homes with surveillance cameras installed. They'll be able to check on the property from anywhere, and with a remote monitoring service, they can rest easy knowing their home and new family are safer.
Benefits for Families
Here are a few of the top benefits home automation offers new parents:
Security

– New families can feel safer and more secure with a home automation system installed. They'll get the peace of mind of being able to monitor their property remotely.

Convenience

– It wasn't so long ago that controlling your home while rocking a sleeping baby would have been impossible. Now it's a reality! Once you get the convenience of home automation installed in your home, you'll wonder how you ever lived without it.

Savings

– Home automation also provides economic benefits for families as well. By programming your lights and HVAC systems, you can drastically reduce energy use in a home.

Comfort

– With a home automation system, new parents can keep their baby and home comfortable day and night. They can easily set their thermostat, program their lights, and check security cameras.
Home Automation Helps New Parents
Becoming a new parent is a life-changing experience that brings many challenges and even more blessings. A home automation system can bring new parents a greater sense of calm and security. The right home automation system can make new parents' lives easier, giving them more control of their home and even greater peace of mind.
Let Moon Security show you how a home automation system can help you and your growing family. We're family run and locally owned and have been in the security business for over six decades. Call us today for a free consultation, and we can walk you through your options for an automated home system. Call Moon Security today at 509-545-1881 or 800-722-1070.